YAMAHA'S beloved Serow, went out of production in Japan just last January this year, the last bike rolled off the line just 10 days ago, last July 31, amidst tears and goodbyes of employees in one of Yamaha's plants in Japan.
Also known as the XT225, (now the XT250 because of the uprated 249 cc engine) the slim and light Serow is named after the Japanese deer, "Capricornis crispus" or the coarse pelt deer, which is a national symbol.
According to a press release by Yamaha (originally deployed in Japanese) the last Serow off the production line was greeted with a round of applause "from the employees who had gathered to see the motorcycle off. There are sales employees who said 'thank you!', female employees with teary eyes, and also veteran technical employees who keep staring at the motorcycle as if to recall something." (See press release here.)
And so the "Mountain Trail Serow 250 Final Edition" left the production line officially marking the end of 35 years of production.  Only 4,000 units of the 2020 Yamaha Serow Final Edition will be produced. It is priced at ¥535,000 (about P267,500) each. It was released in Japan just before the pandemic on January 15, 2020.
In the Philippines the Serow is still available. For now it is only discontinued in Japan. Only the XT250 exists now. The XT255 was taken out of production earlier.
The first Serow came off the assembly line in 1985. It was originally designed as a side by side motorcycle with the Yamaha DT trail bike. There are two versions–the XT255 and the XT250, both were called "Mountain Trail" and shared the same livery, except for the seat form and height.
Factory floor rumors then said it was designed–with its low seat height and tapering, slimmer seat width–primarily for women, taking into consideration anatomical differences between the species.
Though there is no documentation to prove this, more Serow XT255s were sold to women than to men in Japan because it was touted to be a "beginner's bike" that was both forgiving and easy to use. But a fairly big number of the XT250 were also zapped up by female riders.
The "mountain trail" motorcycle category was deliberate. In the 1980s there was a particular boom in the use of camping, 4×4 driving and pick-ups in Japan. Trail bikes, for riding off-road in mountain passes and fields were made to complement this lifestyle. And the Japanese government opened many trails to encourage local tourism.
Yamaha, was one of the first to grab that opportunity with the Serow, the name chosen specifically to connect the bike to the revered mountain deer.
While creating that new mountain trail category in the off-road motorcycle market it also expanded its fan base. The Serow became a young person's bike, the market age of the buyers was between 20 to 35, very popular among women and beginners for its ease of use and versatility.
It has sold over 140,000 units produced in Japan alone. Global sales topped the 500,000 mark thus it is understandable that there "widespread regret among customers, dealers, and even a group of employees when the new model was announced as the 'Final Edition' in January of this year," according to the Yamaha press release
Employees' love of Serow overflows on the Internet
Yamaha's employees love the Serow. The senior staff speaks of the bike especially well. They have stories of production, improvements, how they contributed to determining colors, specs, talking to customers.
"It is the affordable reliable bike that many of us in Yamaha know because it is our first bike," a Yamaha employee narrated.
Called "Your Serow Story" the site encouraged employees to share their tales and experiences about the Serow. Here are some of the original posts (using a lousy Google Translate rendition) on the tribute page by Yamaha employees.
"Well, it's a heavy rainy day in early April. Our employee motorcycle parking lot, where many of us commute to work by motorcycle, doesn't have as many motorcycles on a rainy day. A male employee involved in the internet operation of the company recalls, "I usually see a lot of employees commuting to work by Serow, so I counted the motorcycles in one of the several motorcycle parking areas and there were exactly 50 motorcycles there, even on a rainy day," one post said.
"On the motorcycle parking lot, I was reminded of how much the products are loved not only by the customers but also by the employees. For most of us, Serow is a senior member of the company who has been with us since we joined, and I wonder how many of us have worked with Serow through our work," another post from a lady employee mentioned.
The official Yamaha statement (also originally in Japanese) described the site and its contents:
"The site is filled with an overflowing amount of Serow love posted by our employees, including photo introductions of their beloved motorcycles, episodes of their work, and personal lives with their Serow, as well as parting words for the bike."
Serow and togetherness
Some of the episodes include stories of couples who have met and gotten to know each other through the Serow. It has been officially six months (the actual stop production announcement was made in January 2020) have passed since the website was launched, and the site continues to be filled with postings by employees.
"When I look at the submissions, I get the feeling that there may not be any product that has been loved by as many employees, both in public and private, as this one," one employee laments.
The pandemic caught on, and in Japan, where the spread of COVID-19 has been well controlled, but laws for social distancing are the same as the rest of the world, a planned Serow-themed social event was unfortunately canceled.
"So sad. The meeting for fans was canceled as part of the infection prevention measures. We hope that the day will come soon when employees and customers could be able to discuss the appeal of Serow without worrying about infecting each other," one sad employee said.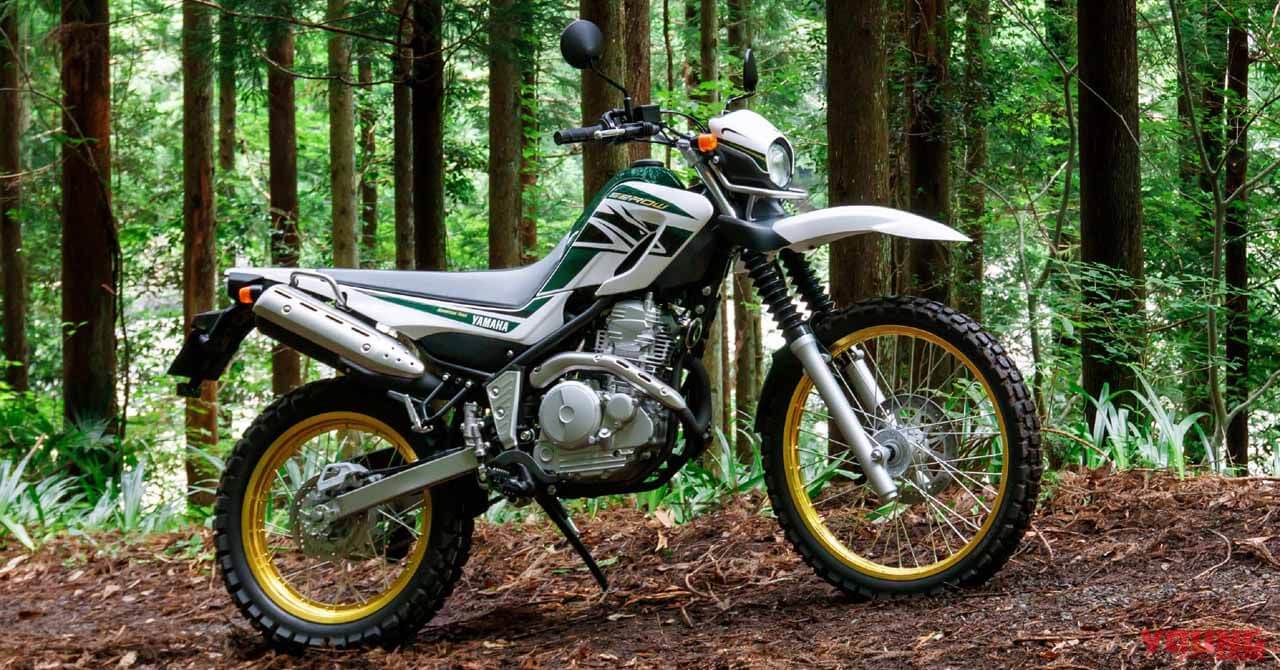 Why was the Serow taken out of production?
In Japan, stricter tailpipe emissions rules pushed manufacturers to junk two stroke engines and upgrade 4-strokers. This saw many engine types and even whole model line ups, not only from Yamaha but also from all motorcycle makers.
The updated law already struck down the iconic Super Cub and Z-series "Monkey" bikes.
According to a Japan-only website "Young Machine" on July 25, 2018, Yamaha formally announced the new, updated, Euro-4 compliant Serow 250 will go back on sale on August 31, 2018.
Initally the declaration from Yamaha was that the Serow would be taken out of production completely by September 2017. Yamaha had Tweeted about the possibility of a revival but with no exact plans or dates.
Insiders at Yamaha said that the engine was the primary reason for the discontinuation of the bike but Yamaha found a solution in the 250cc engine it already has and fitted it into the Serow. The engine, now with fuel injection has been bumped up by by 3 bhp.
Along with a fuel injection system (a fancy single point induction system), it is also fitted with a vapor canister that reduces gas evaporating and getting to the outside air. That fixed the problem, at least for the 250cc. At this point, the 255 powerplant was discontinued completely.
Compared to the previous Serow, the new bike weight increased by 3kg–mostly because of additional engne parts and components. On one hand, fuel consumption increased from 40km/liter to 48.4km/liter despite of the increase in weight. Maximum power output is the same at 14kw, but it the wheel horsepower has gone up from 18 to 20.
Other than this, maximum torque has increased from 18nm (1.9kg-m)/6500rpm to 20nm (2.1kg-m)/6000rpm–a result of a higher compression ratio from 9.5 to 9.7.
In early 2019, the rest of the Asian market, the Philippines included, received their share of the now Euro-4 compliant Serow XT250.
The women, their adventures on their Serow
The Serow cannot be disconnected from a young woman who in the 80s left her job, just turning 30, sold her vintage two stroker to make a down on a Yamaha XT255 and rode 20,000 miles from the UK to Alaska and to a place called Ushuaia at the very end of Argentina.
Pryce had an envious job at the BBC. The broadcaster's record label BBC records was a dream job for many, yet Pryce decided to leave it when she was ahead because according to an article written by Meera Dattani "there just wasn't enough excitement there to keep her in one place.
"I spent most of my time wondering how I had washed up in this jargon-infested cubicle hell," Pryce said as quoted in Dattani's wonderful piece "Riding solo: One woman's motorcycle adventures in Iran and beyond."
"How do you go from riding a vintage British motorcyle around London to buying a Yamaha XT225, quitting your job, and planning a 20,000 mile-trip from Alaska to Ushuaia? Couldn't you just try Europe first?" Dattani asked Pryce in her article.
"Ha! Well, in for a penny, in for a pound! I've always loved the USA and American music, literature, design, fashion, culture, you name it, particularly that of mid-century America and the West Coast. So I wanted to include the US on my trip and then I started looking at the map and thought, 'Well, why not keep going…?' So I decided to ride to Ushuaia, the southernmost tip of South America," was Pryce's proud reply.
Pryce went on to go to Iran and some other adventures with her XT255, but later searched for a bigger bike crisscross the African continent.
Following in her footsteps is another British rider Helen Lloyd, who in 2009 also quit her job and cycled across Africa. A few years later, after saving up money for her next round–a 40,000-kilometer ride from Cape Town in South Africa to Cairo in Egypt–on an XT255. Lloyd later became an advocate and mover of women in motorcycling.
In her blog she called her XT255 "a little, old, cheap thing" but praised it for its reliability. Based on photos that bike was fitted with an Acerbis fuel extender tank and baggage holders.
"On my cycle journeys I'd met people travelling on motorbikes. It seemed like a fun way to travel and it didn't take much to convince myself that I'd love to give it a try. So I got my license. And then, finally, when I returned from Siberia, I bought a motorbike. It's a little, old, cheap thing… but it's reliable and can go just about anywhere."
"Now I've got a motorbike license. And so, in December 2015, I returned with my Yamaha XT225 trail bike."
And in Japan, it remains to be a cult classic with women, who, post their photos of the bike when delivered and as they are using it. These photos were picked up from various places in the Web, copyrights are to their respective owners.
The Serow will still continue to be produced and sell in other market globally. It is a available in the Philippines and Malaysia where it is also assembled.
North America still sees the Serow in its streets and in the dealerships but it also been technically out of production in the mainland. The U.S. receives its supply of Serow from Japan and it looks like its going to be inventory stocking from now on.
Yamaha has not abandoned servicing and parts supply for the Serow, that much is clear. Though the XT255 is an old engine, not much has changed and major repairs and replacements have parts available almost everywhere in eBay and Amazon. For other markets where the bike is actually available, the parts are also plentiful and a lot of used or surplus parts swaps are going on.
So here is to the Serow, a great bike I am sure, we'd all like to see stick around longer.