Smart GIGA Pro comes with up to 114 GB, biggest prepaid data offer yet
Mobile services provider Smart Communications, Inc. is making it simpler and easier for subscribers to keep up with their growing digital needs with GIGA Pro,  Smart's biggest prepaid data offer with up to 114 GB to cover various online activities.
Available to all prepaid subscribers, GIGA Pro 999 offers a total of 114 GB valid for 30 days for only Php 999. This is inclusive of 3 GB per day of any GIGA offer for 30 days plus 24 GB open access data, which subscribers can use for work or school as well as their daily dose of entertainment through online videos, music, and games.
GIGA Pro also comes in other denominations to give subscribers the flexibility to choose the offer that suits their passions and lifestyle needs.
GIGA 199 comes with a total of 27 GB data valid for 7 days, which is inclusive of 3 GB per day of any GIGA offer for 7 days plus 6 GB open access data.On the other hand, GIGA Pro 599 offers a total of 57 GB valid for 15 days, which is also inclusive of 3 GB per day of any GIGA offer for 15 days plus 12 GB open access data.
Achieve more with GIGA Pro. Smart Prepaid subscribers can register to GIGA Pro via the new GigaLife App, which is downloadable on Google Play Store and Apple App Store.  Simply open the app and select the GIGA Pro offer of your choice to get going. Customers can also register to GIGA Pro by dialing *123#, choosing GIGA Pro, and selecting their preferred denomination.
GIGA Pro is ideal for subscribers who want to accomplish and do more of what they love online. For example, subscribers can achieve more in their career with GIGA Work Pro's suite of productivity apps, including MS Teams, Office 365, and G Suite, among others.
On the other hand, students can gear up for more online learning with GIGA Study Pro, which provides access to handy distance learning tools, including Google Classroom, Meet, Google Search, Office 365, and more.
Immerse in HD entertainment. GIGA Pro's big data inclusions also enable prepaid subscribers to stream videos in HD resolution for a more immersive experience while binge-watching the latest series, films, and documentaries. For this, subscribers can register to GIGA Video Pro, which provides data for YouTube, NBA TV, NBA League Pass, iWant, and Cignal Play.
Avid mobile gamers can also level up their gameplay with GIGA Games Pro, which offers access to Mobile Legends, Clash of Clans, Clash Royale, Arena of Valor and Facebook Gaming, while those who love creating and sharing content may register to GIGA Stories Pro to connect more on TikTok, Instagram, Facebook, and Twitter.
Primed for Smart 5G connection. Prepaid subscribers with 5G-certified devices and Smart 5G coverage can also rely on GIGA Pro to make the most of its superfast speeds, which makes it possible to upload and download heavy files in seconds.
Powered by Smart 5G, GIGA Pro users can enjoy streaming Ultra HD videos without interruption, play mobile games without lag, and use more high-bandwidth applications without delay – for a leveled-up digital experience.
Country's fastest mobile data network. Smart Prepaid subscribers can make the most of GIGA Pro powered by Smart LTE, the country's fastest mobile data network as affirmed by international third-party mobile analytics firms such as Ookla and Opensignal.
A recent report by Opensignal, an independent mobile analytics firm, shows that Smart has been consistently offering a much better Video Experience for subscribers compared to the competition for the past seven quarters starting in Q3 2018. Moreover, Smart's Video Experience score has increased from 42.4 points to 53.5 points, a rise of 11.1 points (26.3%) between Q3 2018 and Q1 2020.
In its April 2020 Mobile Network Experience Report for the Philippines2, Opensignal also noted that Smart remained ahead of the competition in terms of Video Experience, Upload and Download Speed Experience, Voice App Experience, Games Experience, and 4G Availability.
On the other hand, Ookla, the global leader in internet testing and analysis, recently named Smart as the country's fastest mobile data network in the first half of 2020 after it achieved a Speed Score of 18.33, with average speeds of 15.94 Mbps for download, and 7.57 Mbps for upload, based on 2,810,963 user-initiated tests taken with Speedtest®.
Smart has also rolled out its superfast 5G network in strategic locations in the cities of Manila, Quezon City, Makati, Taguig, Pasig, Mandaluyong, Marikina, Parañaque, Valenzuela, Caloocan, Navotas, San Juan, and Pasay and in the provinces of Boracay, Cavite, Cebu, Davao, Iloilo, Laguna, and Rizal.
To learn more about GIGA Pro, follow Smart's official accounts on Facebook, Twitter, and Instagram.
GCash reigns as the No.1 finance app in PH — App Annie data
Since the start of the year, both Android and iOS users have chosen GCash as their finance app of choice, according to data from App Annie, the leading mobile data and analytics company, which found GCash as the top downloaded finance app with the most number of active users.
For nine consecutive months since January, GCash has been consistent in staying at the top spot for the two categories, reflecting the Filipino's choice for their digital banking and finance needs and helping more people participate in the financial landscape.
This means that GCash was also the top financial technology (fintech) app during the period under review.
"Once again, GCash proved that it is indeed the leading fintech app in the country as it is the most trusted and partner finance app of Filipinos in navigating the pandemic towards the new normal," GCash President and CEO Martha Sazon said.
According to App Annie, a reputable global app ranking authority, GCash has recorded a breakthrough of over 10 million app downloads in just the first nine months of 2020, and registering a whopping 130 percent app active user growth in September compared to the beginning of the year.
It added that the leading fintech app has been growing by 13 percent monthly on average.
The figures reflected the Filipinos' growing reliance on digital finance to manage their personal finances and to carry on with their daily lives while also staying safe with contactless transactions provided by fintech apps like GCash.
"We saw GCash downloads and active user base reach remarkable heights in the span of months during the pandemic as Filipinos are adjusting to the stay-at-home lifestyle. We observed how people rapidly adopted the use of fintech apps in their everyday lives and how it impacted their way of life. And we are proud to say that GCash is leading the revolution towards that cashless lifestyle of the Filipinos," Sazon said.
Because of the pandemic, GCash strived to further develop its platform from a convenient mobile wallet to a holistic finance app which offers essential services for the Filipinos to adapt to the new normal lifestyle.
With GCash, people are empowered to do more even in the comforts of their homes. They can shop and do contactless payments via QR codes or online modes of payment via send money.
They can also pay their bills, send money to bank accounts or to any GCash account, buy load, save money, borrow money, invest, get insured and many others.
Aside from consumers, GCash has also empowered businesses to thrive in the pandemic by providing them with enterprise-grade payments, disbursements, and even digital rewards solutions to bring them closer to their customers.
GCash is also a strong partner of the government in the collective fight to win the national health situation. It has assisted both the national and various local governments in disbursing financial assistance to those who were adversely affected by the pandemic.
"Filipinos turned to fintech to address their personal finance concerns. And GCash has a wide array of service offerings which provide them with the necessary financial tools that will aid them in going about their everyday finances," Sazon said. "Financial technology still serves as the bedrock of digital services, empowering Filipinos to do more with less."
Globe Fintech Innovations Inc. (Mynt), which operates GCash, is part of the portfolio companies of 917Ventures, the largest corporate incubator in the Philippines wholly-owned by Globe Telecom Inc.
GCash is available for download on the App Store and Google Play. For more information, kindly visit https://www.gcash.com/.
Aboitiz Foundation launches online learning hub for CSR practitioners
Aboitiz corporate development arm Aboitiz Foundation, Inc. (AFI) has launched an online training hub specifically catering to Corporate Social Responsibility (CSR) practitioners in celebration of the Aboitiz Foundation's 32nd founding anniversary.
The Foundation recently held a virtual Memorandum of Understanding signing with the Humanitarian Leadership Academy (HLA) and the Center for Humanitarian Learning & Innovation (CHLI) for the CSR Capability Building Online Training Module under the Aboitiz CSR Academy in celebration of its 32nd anniversary last September 28, 2020.
The Aboitiz CSR Academy is the learning and training resources hub that showcases various fields in CSR. It offers online courses and modules curated from various sources, one of which is KAYA, the global learning platform of the Humanitarian Leadership Academy or HLA. These modules can be accessed anytime by the Aboitiz group's CSR practitioners.
"Our goal is to enrich the knowledge, skills and behavior of our CSR professionals so that they can effectively deliver its social responsibility mission. We would also like to thank our partners from HLA and CHLI for giving us the opportunity to access learning resources from your vast online library," said Aboitiz Foundation president and chief operating officer Maribeth Marasigan.
Mr. Nicolas Kröger, Director of HLA said that the organization co-creates content with national partners from various countries and provides tools that partners may use in developing content for courses. HLA has been working closely with CHLI in developing content that is relevant and accessible to the Philippines. He quoted a user of the training courses, "Knowledge is power, never stop learning," citing that this is precisely what HLA and this partnership with Aboitiz Foundation is all about.
In his message, Mr. Diosdado Waña, Director of CHLI said that working together with Aboitiz Foundation can bring capacity-building accessible through alternative delivery methods and platforms, make humanitarian learning more relevant by customizing content and enhance E-learning development and promotion.
KAYA is a free humanitarian learning platform that provides access to massive open online and self-directed courses and pathways. It is designed to be accessed from phones, laptops and PC's whenever and wherever you are.  It is owned and operated by  HLA, a global learning initiative set up to facilitate partnerships and collaborative opportunities to enable people to prepare for and respond to crises in their own countries.
Top up Wild Rift at Codashop PH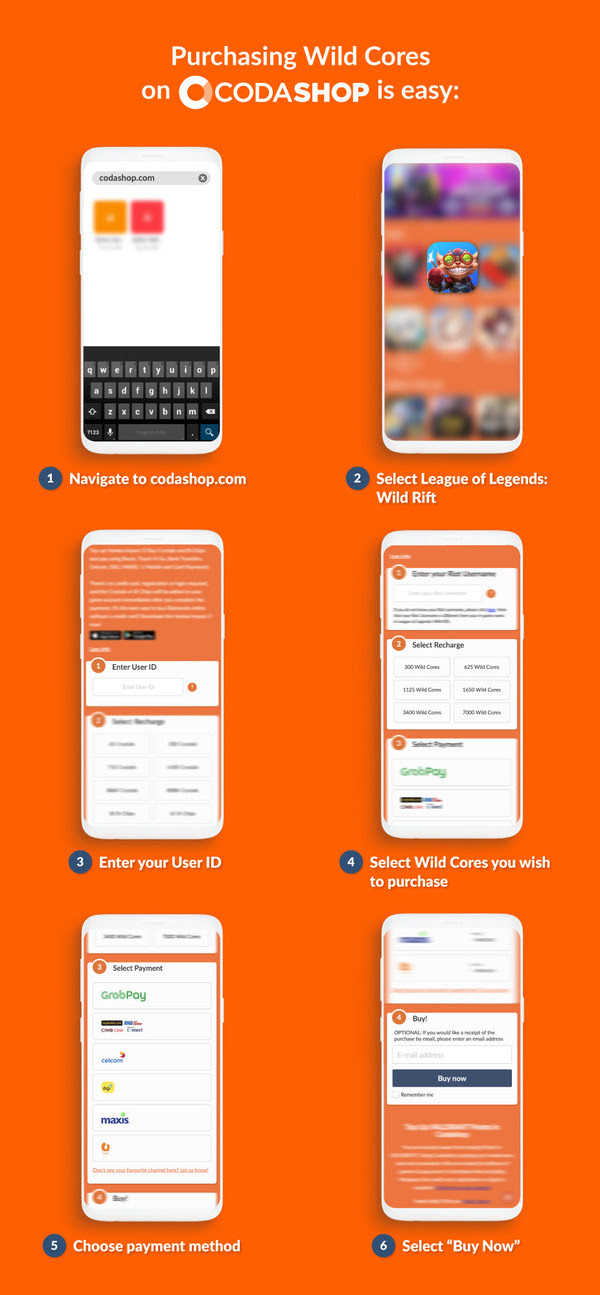 Riot Games Southeast Asia has appointed Codashop as its exclusive third-party top-up partner for the highly-anticipated League of Legends: Wild Rift. Bring your gaming experience to the next level by topping up at Codashop and playing the most awaited MOBA game on mobile. We are ready – are you?
Wild Rift is the skills-and-strategy 5v5 MOBA experience of League of Legends by Riot Games, now built from the ground up for mobile and console. With fresh controls and fast-paced games, players of every level can team up with friends, lock in their champion, and go for the big plays. Select your Champions including Ahri, Jinx, Lux, Sona and Master Yi.
Destroy an enemy Nexus, slay foes, earn Pentakills and claim victory. Immerse yourself in the League of Legends universe with Wild Rift as its gateway.
Play with friends, rank up your Champions from Iron to Challenger and top up at Codashop. It is convenient to use as you will not require any login or PIN code. Just complete your payment and Wild Cores (WC) will be added to your Riot Wild Rift account in a jiffy.
"We are delighted to have Wild Rift as a key addition to our repertoire of gaming titles. Its arrival on mobile will allow many more players to enjoy the League of Legends universe. Codashop is here to make sure that users can top up easily and enjoy many exciting promotions at the same time," Philippe Limes, Coda Payments CEO said.
You can choose from different popular payment methods including: Globe/TM, Sun/Smart/TNT, GCash, PayMaya, GrabPay, 7-Eleven and Bank Transfers.
"For the past year, we have been working with Codashop to make game payments for Legends of Runeterra and VALORANT accessible for players across Southeast Asia. We're pleased that users can expect this same level of convenience with Codashop payments in League of Legends: Wild Rift," " said Justin Hulog, General Manager of Riot Games Southeast Asia, Taiwan, Hong Kong and Macau.
Top up Wild Cores at Codashop.com. (From PRNewswire)
Tanium announces launch of ASEAN Hub in Singapore

as part of international expansion strategy
Tanium, the proven platform for endpoint visibility and control, today announced the opening of its new ASEAN office in Singapore as part of its global expansion strategy. 
Tanium transforms how organizations manage and secure their endpoint devices including laptops, servers, virtual machines, containers, and cloud infrastructure. With the speed, scale, and simplicity of Tanium's platform, IT security and operations teams now have accurate information on the state of endpoints, which enables them to more effectively protect against modern-day disruption and cyber threats. 
Amongst its customers, Tanium supports some of the largest and most technically sophisticated organizations in the world, including half of the fortune 100, 12 of the top 15 U.S Banks, 70 percent of the top retailers, and all five of the branches of the U.S Armed Forces. Expanding its presence in Singapore and the ASEAN region will help Tanium transform the IT management industry and solve the endpoint security and visibility challenges its customers in the region are facing. 
"Tanium's entrance into the ASEAN market comes at a time when the way businesses work and interact with one another is rapidly changing. COVID-19 has been the catalyst that has heightened the need for businesses and organizations to undergo digital transformation, finding new ways to be cost-efficient while staying on top of cyber hygiene and cybersecurity.
"The tidal wave of distributed remote workers has only exacerbated the challenges that many organizations face when securing their digital footprint. 
"By setting up a presence in Singapore, our game-changing technology is available  to the ASEAN region for the first time, Most importantly, will be able to support our customers with local language and local timezone capabilities, helping customers here drive business outcomes with unprecedented visibility and control over their digital assets. 
"Tanium's offices worldwide have been consistently lauded with Best Workplaces awards and I look forward to building a team and culture reflective of the unique Tanium values."  
Tanium's centrally-located Singapore operation is already home to a team of passionate and highly-skilled experts who are committed to driving customer success in the country and across the region.  
For more information about Tanium, visit: https://www.tanium.com/ (From PRNewswire)