REMEMBER when you were little and the best plaything was a box?
I do. I'd draw wheels on a box and sat inside on a pillow, with a plate for the steering wheel and a ladle for the shifter. It brought hours of imaginary fun for me, especially when my dad brought his own "car" (which I now think would have been a fairly large balikbayan box) and we raced up imaginary hills and drove around curvy roads.
That same feeling of fun and exhilaration came back when I drove the new Suzuki Jimny. The emotions were exactly the same, except this time this box had real wheels, and the hills and curvy roads tested the suspension and engine of this much loved Japanese kei-box…err…car.
Having driven the previous generation Jimny, I recall that I had not experienced the "cardboard box car emotions" I had just having seen this car.  Looking back I think it was because the last version had its edges sanded down–closer to the Vitara–than the Suzuki Beaver, which is its actual spiritual forebearer.  Thus despite the distinct similarities inside the interiors and the stance, there was a certain softness to that elder Jimny.
Boxy is sexy
So the newer (not even a year old yet in the market) Jimny is visually boxier. It is also shorter, wider but not taller than before. The bulk outside comes from the fender flares and the cropped length of the new bumpers. It is essentially a Japanese kei car and thus needs to meet the approved dimensions.
That means, no longer than 3.4 meters, no wider than 1.48 meters, and no taller than 2.2 meters. Suzuki designers made sure for this iconic variant to remain relevant, bringing back what made it stick to the minds of the generation that have the money to buy one, is to remake visual cues that are both nostalgic and fun.
To make this fun box of a car happen required common sense engineering–like making the doors thinner without compromising safety, make the seats wider and more comfortable without making it thicker. This means relocating the window switches and building a more supportive seat frame, firming up the cushions without adding too much foam.
Real kei cars go up to 660cc only. Once the cars get out of Japan, specifications can change. Thus what is not "kei" is this car is the 100hp 1.5-liter K15B engine—upping the power by 13 horses from the previous 1300 cc package. That ups it to 101 hp with 130 Nm of torque.
More horses, more fun
Now, if you consider 101 actual horses pulling the 1,110 kilograms of steel, plastic and rubber, that is a lot of power to boot and an almost perfect power-to-weight ratio. It won't keep you wanting for speed nor for jolt when off the beaten path.
(I did 130 kph on the Clark Speedway straight then backed off, but Top Gear's Niky Tamayo reported 145 kph—with his serious driving skills and fancy measuring equipment)
I don't think the Jimny's aerodynamics will ever get a good grade in the wind tunnel but you don't need speed when the this car is in its territory—that is concrete-less places with mud, gravel and boulders, a couple of lakes in between, and river crossings too. That is why suffixed to its name is the label "All-Grip Pro," which when broken down in an etymological fashion means exactly that–get a grip on any surface!
Now I will leave the hardcore off-roading with Tito Beeboy Bargas, but sample some of it when I visited my dad's best buddy, Tito Jowi Faulve at our favorite summer haunt, Tanay Adventure Camp.
Tanay is closer to Manila than it is to our home in Laguna. I drove with my friend John to the camp but we came in from our renter at BGC—22 kilometers closer than if I had driven from home. The drive also provided me a chance to test the fuel efficiency, just by topping fuel (an important lesson I learned joining my dad in the many fuel economy runs he had driven for in the past).
Frugal enough
I registered about 11-12km/L in combined highway and uphill drives to Tanay and logged about 7-9 in traffic. Using more economical driving techniques, that is 80 kilometers per hour at best, ranging between 2,000 to 2,500 rpm and the Jimny gave a modest, but acceptable 18 kilometers per liter.
That is frugal enough knowing that this engine is free from expensive and hard to tune electronic fineries. It is a simple block with a lot of potentials (yes, plural as in 200 horsepower, as in that photo below).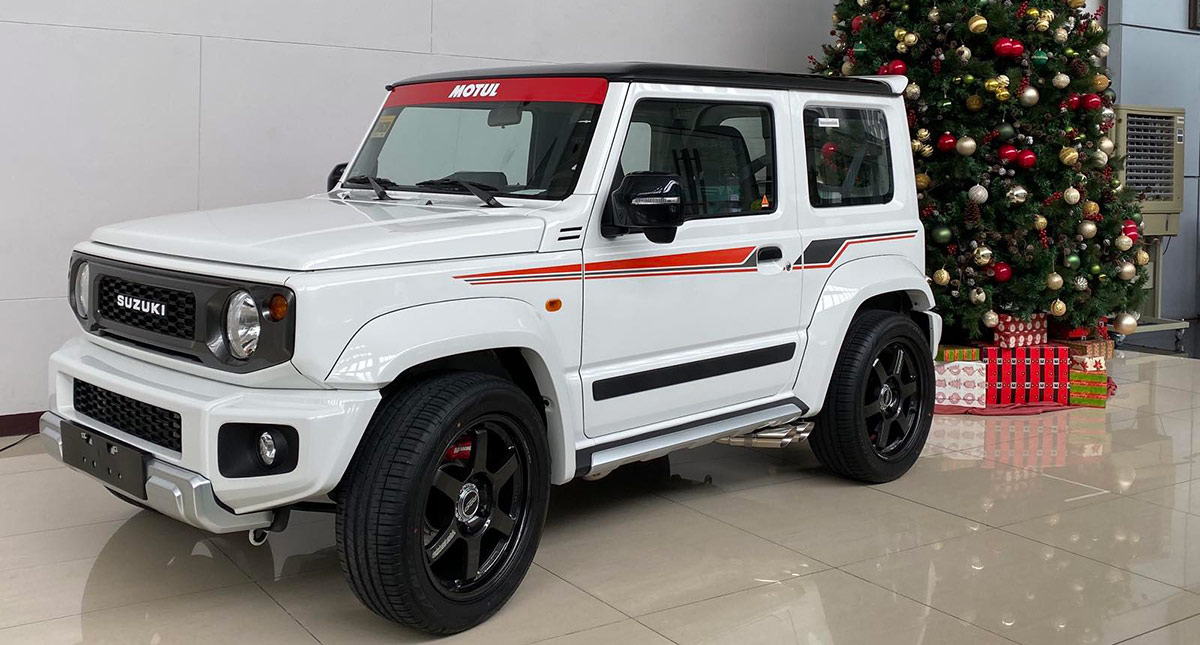 What's beneath
Underneath the Jimny are equally simple technologies. To prop up the box is a ladder frame that sits on 3-link live axle with coil springs on both ends. Steering is a simple as a go-kart's recirculating ball and pitman arm set-up. To compensate for the height, long linkages connect the whole set up to the power steering. The variant I tested was an automatic, so it had everything like cruise control and the fancy clinometer in it.
There are no complaints about the suspension. I grew up with cars that had far more horrid manners—a D21 Terrano and the Y61 Patrol—both from Nissan, rode like they had no shock absorbers. That jiggly suspension bit is the 4×4 part of this car's existence, so those who chose it, accept it wholeheartedly. The suspension feels bouncy at low speeds. But sharp at slow corners because of the short wheelbase. At higher speeds, it is still stable.
Away from the pavement
Again moving out of the concrete, the Jimny was just awesome. After my dad texted Tito Beeboy, John and I went on to Barangay Daraitan where the famous Jungle Base is found and tested the 4×4 capabilities to the fullest. Hill climb and descent controls, the nice 4×4 lever, and the "taller than most" ride height were fully evaluated. And gets full passing marks with above-average grades on articulation and control and exceptional marks for power delivery.
Inside the best part is the folding seats. Just look at the photo. Enough said.
That driving a box feeling is warm and fuzzy. And that continued to overwhelm me until the day I returned the little brute.
Despite having all the fancy conveniences and amenities–the electronic driver aids, the passenger doors that locks at 4 positions, the full flat cargo area, the swingout rear door, the fancy audio system, these are all the conveniences that make owners forget that under that box on top of a ladder frame, is one capable car that does it well both on the road and away from it.
 Remember that last description.
With a price tag of over a million at the entry-level 5-speed manual and P1.175M for upper end GLX 4-speed automatic, there are other cars with more space and possibly more oomph. But possibly bereft of the excitement and fun of that cardboard box.